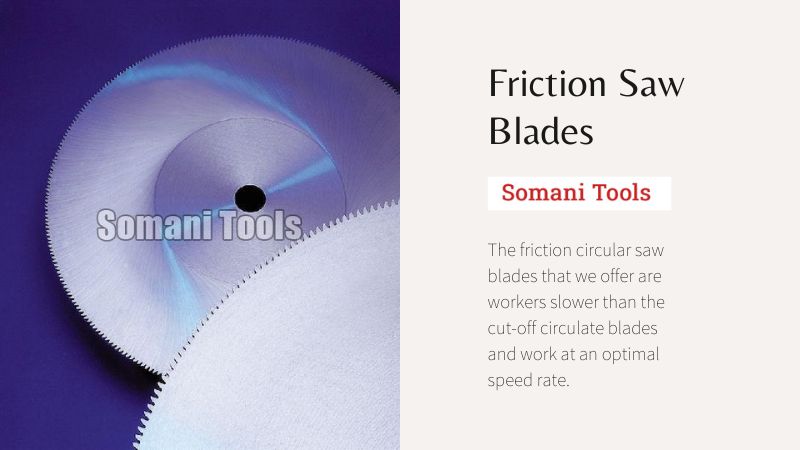 AXE has been our exclusive means of wood cutting and chopping since the dawn of mankind. However, the axe is not only ineffective for chopping but also hazardous for the user and others nearby.
Circular saws are one of the many instruments whose creation is a result of technological advancement and changing times. This not only makes labour simpler but also safer.
When using the right blade, a circular saw may cut a variety of materials. Let's talk about some advice for selecting the ideal Friction circular saw blade Manufacturer.
CHOOSE THE RIGHT BLADE
The majority of circular saws have a motor. This motor uses 8 to 15 amps with a blade that is 714 inches in diameter. You can do your task with ease when you've got the proper blade. Thus, for a short overview of friction circular saw blade for cutting typical materials, see this.
WOOD CUTTING BLADES
There are two main categories of wood-cutting blades: construction blades and plywood blades. There are almost forty or more teeth on construction blades with fine-cutting blades. For basic carpentry work where smooth cuts aren't important, blades with teeth between twenty and forty are best.
Compared to plywood blades high-speed steel blades have many thick teeth. Both sides of the material are cleaner because of these small teeth. The cutting of laminate is also possible using plywood blades.
BLADES FOR MASONRY CUTTING
Silicon carbide abrasive with fibreglass reinforcement makes up masonry blades. The same substance is frequent in sandpaper. There are two different kinds of blades; the initial is a coarser version for ductile materials like limestone, brick, and concrete block. The other is suitable for tougher substances including marble, granite, and all varieties of ceramic tiles. Using ear coverage and work attire is strongly advisable because the proposed cuts by these blades are noisy and dirty.
BLADES FOR CUTTING METAL
You can cut copper, aluminium, and the majority of ferrous and non-ferrous metals using a metal-cutting blade. They are masonry-style blade-like toothless abrasive tools. Nevertheless, these blades cannot switch out. Several materials are useful to make metal-cutting blades in order to reduce the likelihood of breaking while cutting hard things. Use protective gloves and move gently when using a metal-cutting blade.
BLADES FOR CUTTING PLASTIC PIPE
One can cut plastic tubing with a blade designed for cutting wood. The only factor that must be considered is the cut speed; the slower, the better. Too much effort applied to the blade may cause it to become trapped in the pipe. It may also cause it to kick back towards the body. This raises the possibility of injury. One can avoid many of these problems by using the blades gradually.
RUBBER SHEET BLADE
Several individuals attempt to cut acrylic using certain plywood cutting blades, but the results are typically disappointing. The more effective method is to use a table saw with an 80-tooth blade or a fine-toothed jigsaw. You can employ a circular saw and sharp blade to make straight cuts. Making the cut swiftly requires a clean pushing action.
These are the many blade types that can be useful on various materials. Your circular saw and its blades could last better when you employ the appropriate blade for the job.